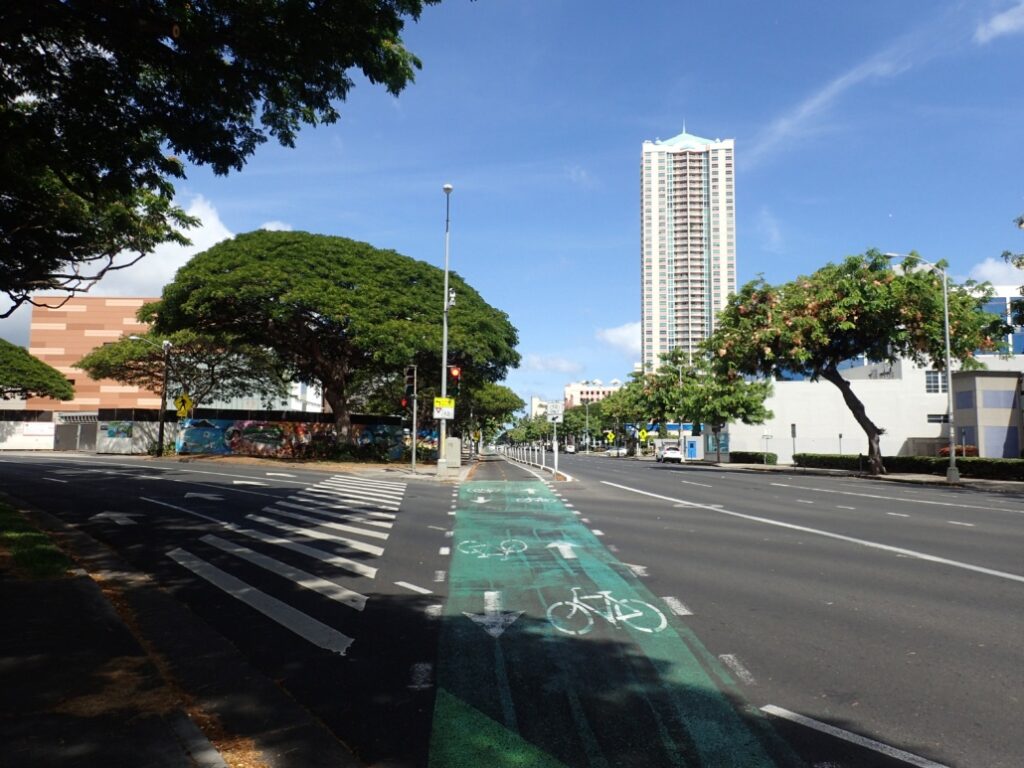 As more residents are moving to urban areas such as Honolulu to reduce their commute time to and from work, alternative modes of transportation including walking and bicycling have increased in popularity, especially with the introduction of biki – a bikeshare service. The City and County of Honolulu is implementing the Complete Streets program to improve the safety, accessibility, and comfort of transportation alternatives for all users, while encouraging physical activity.
According to the Hawaii Department of Transportation there were two bicycle fatalities in Honolulu in 2019. Did you know that using a bike helmet can reduce the risk of head injury by 85 percent? Wearing a helmet is just one of the ways you can protect yourself while riding a bike.
Check out Bike O'ahu's Top Ten Bicycle Safety Tips
Wear a helmet every time you ride. The State of Hawaii requires all bicyclists under 16 years if age to wear a helmet.
Obey traffic laws. Your bike is a vehicle, and just like a car, you must stop at stop signs and red traffic lights.
Always ride with the flow of traffic. It is unlawful to ride facing traffic in Hawai'i, as it is in all 50 states.
Stop at the end of the driveway. Many crashes between a car and bike happen when riders don't stop at the end of their driveway to look for cars. Always look left-right-left before entering or crossing a road.
Be predictable. Don't do anything that would surprise drivers, such as swerving in and out of parked cars or traffic.
Look behind you, and make sure it is clear, before making a left turn or moving into the roadway. You should be able to glance over your shoulder without swerving. Also, let motorists know what you're doing by using proper hand signals for turning and stopping.
Be visible. Wear light-colored clothes when you ride. If you ride at night, you must have a white front light and a red rear reflector.
Don't use headphones when riding. You need to be able to hear the traffic around you.
Don't ride too close to parked cars. A driver may suddenly open the door in your path. Leave at least 3 feet of distance when passing parked cars, and be alert for cars that may be pulling out into the road.
Make sure your bike is safe. Before you leave home, check to make sure that the brakes work, the seat and handlebars are tight, and the tires are properly inflated and in good shape. Also, make sure your bike is the right size. A bike that is too big is more dangerous than one that is too small.
For more information about bicycle safety connect with the Hawai'i Bicycling League at 735-5756 (www.hbl.org.) You can also find bike laws on their website.
The Complete Streets program will identify and design solutions that balance the needs of all users and modes in the urban core, including pedestrians, vehicles, bicyclists, and transit patrons. Bikeway improvements will be made in Downtown, Chinatown, and Ala Moana-Kakaako areas. A recent project on Pensacola Street has implemented a Two-way protected bike lane from Wilder Street to Kapiolani Boulevard on the Diamond Head side of the street. These bikeway improvements will make our streets safer for both bicyclists and motorists.