What's Going On with Our 2nd Anniversary
It is our 2nd Anniversary and we are celebrating by inviting you to our Open House! If you are in the Honolulu area on Thursday, November 1st then stop by our offices to meet with us, our staff, and learn something. We will be conducting five (5) free seminars throughout the day. I, Ryan K. Hew, will be doing various business law topics meant for small business owners. My partner, Trejur P. Bordenave, will be going over the basics of personal injury and making a claim.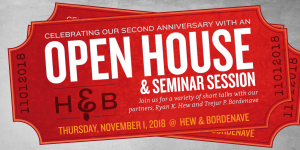 Sign Up at EventBrite
So if you are interested in:
Internet and Social Media Law for Small Business Owners
Contracts for Small Business Owners
Forming a Business Entity
Plaintiff's Injury Claims: What to do if you get hurt
Then please find the details and sign-up at Eventbrite. Also throughout the day, if you want to swing by and say hi or sign up for an initial consult for another date and time that would be great too.
Thanks and see you around!
-RKH